Rates & Booking * NOW CLOSED FOR WINTER *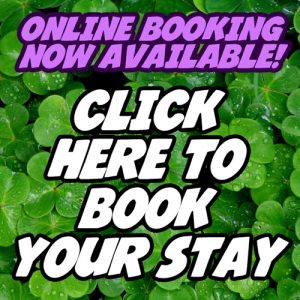 Pricing:              SEE You March 1st 2023
Rates Do not include tax*   
Some Room types are not listed – call for special group or family situations.            We have the right to refuse service at our discretion and prices may change without notice.  Note: 48hr Cancellation Policy.
$69.00   
Single Room – Queen or King

– (2 Adults or 1 Adult and 1 Child)

 
$99.00 
Double room  2 Queens

   (Max of 4 people over the age of 2 years old)                        (1Queen 1King if available)

 
$125.00  
Triple room with 3 beds:  

2 Queens & 1 King –   (Max of 6 people over the age of 2 years old)

 
*** Not Pet Friendly Rooms avail. if bringing pet include it in booking
Pet room cleaning fee:  $10 per pet, per night  (over 40lbs $20 )
$100 pet deposit may be required               
** Boats/ Trailers  $10 parking fee  notify at time of booking 
Room Rates Include:
Indoor Pool accesses for Registered Guests ONLY . . . no visitors permitted
Picnic Area Grills, Wifi, Ezmart next door 24 food & coffee 
Please note: Pitbulls are banned in the town of Murfreesboro with a police issued penalty of $500. to you if brought into town.